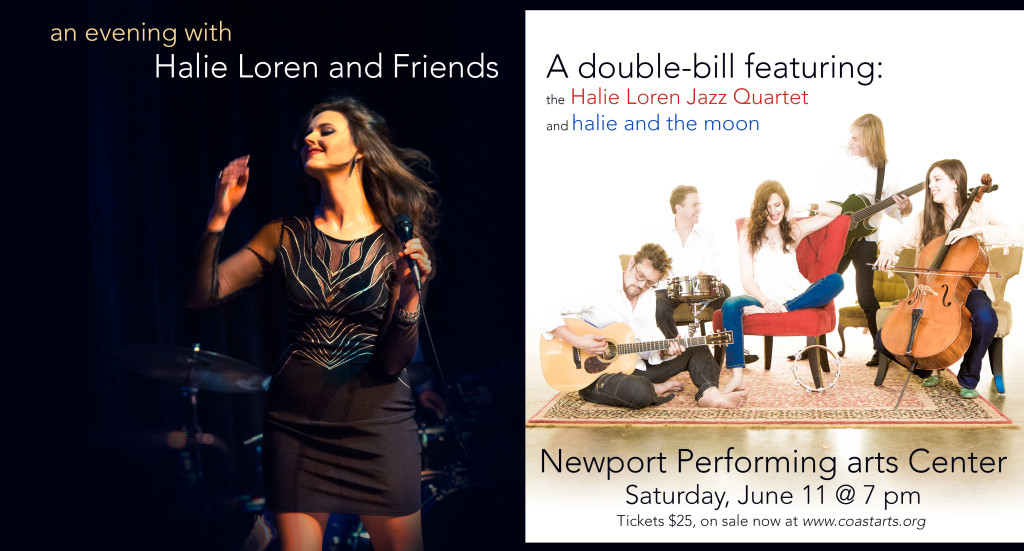 An evening of two musical acts back-to-back, both featuring vocalist Halie Loren – as jazz singer/songwriter with her quartet and as the lead vocalist and pianist of halie and the moon! The event is a fundraiser for the "Entertain the Future!" capital campaign to expand and enhance theNewport Performing Arts Center.
halie and the moon's Acoustic Poetic Dream Pop sound is created by Loren on lead vocals and piano, Daniel Gallo on guitars, Katherine Dudney on cello and vocals, Bobby Stevens on bass and vocals, and Beau Eastlund on drums.
Halie Loren and her internationally-acclaimed jazz group will includeMatthew Treder on piano, Brian West on drums, and Sean Peterson on bass.
Want to make a coastal getaway weekend out of it? Stay two nights at one of the Newport PAC's partner lodging establishments and receive two tickets to the concert at the Newport Performing Arts Center during your stay! – See who the hotel parterns are, and more information about this special deal, at: http://www.coastarts.org/events/2016/06/an-evening-with-halie-loren-and-friends/#sthash.AuZnlKFK.dpuf