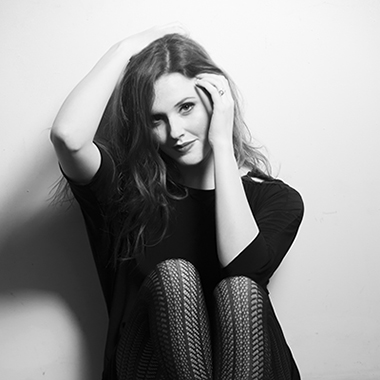 2015: About "Butterfly Blue"
Internationally-acclaimed Singer-songwriter Halie Loren has enjoyed a very busy 2015 touring behind her critically-acclaimed newest (and eighth) album Butterfly Blue, which was featured on this year's Grammy ballot.
Upon its release in Japan and Asia earlier this year, Butterfly Blue debuted at #1 Billboard on Japan's jazz album chart, her third album to top that esteemed chart, and is currently ranked as the 9th-bestselling Jazz CD (just behind the likes of Diana Krall and Lady Gaga/Tony Bennett) on Amazon Japan for 2015. Loren's seventh Japan tour this February with her quartet consisted of ten days, three cities, and thirteen shows, with an eight-show run at Tokyo's famed Cotton Club. In the past three months, she returned yet again to Asia for her fourth tour of Korea and to Europe for a string of performances in Italy. Loren consistently and actively tours the U.S., Canada, Asia, and Europe, including this year's sold-out appearances at the Rochester International Jazz Festival, Montreal International Jazz Festival, and iconic club Hugh's Room in Toronto, Seattle's Jazz Alley, and Yoshi's in San Francisco, followed by tours of South Korea and Italy.
Butterfly Blue has been described as Loren's most sophisticated and mature release yet, and also her riskiest effort in terms of artistic reinvention and reach. This broad-yet-unified collection of twelve tracks, hailed by many critics and fans as her best yet, creates a soul-steeped journey through the expansive varieties of American music: from textural and catchy original opener "Yellow Bird" to the playfully defiant hope of "Carry Us Through", from the gutsy oomph of Motown on Loren's "Butterfly" to the ramshackle darkness of "Boulevard of Broken Dreams", from the sultry swing of "Stormy Weather" to the percussive and plaintive poetry of album original "Blue" (penned by guitarist/songwriter Daniel Gallo), each song moves with ease into nuances of folk, balladry, jazz, soul and blues. There is fracture here, and heartbreak, an emotional fragility that forever seeks redemption in song and the healing powers of love. And there is joy, a singleness of vision that moves upward and outward seeking the dynamo of connection, both to others and the world at large.
Authenticity and connection is one of the primary keys to Loren's artistic approach: whether it's injecting the American Songbook with old-school soul or finding a familiar thread of nostalgia in newly-penned originals, no matter the language (her repertoire finds her singing in French, Spanish, Portuguese, Italian, and more), Loren finds ways to bridge cultures and genres in unlikely and always heart-felt ways. "Music creates greater connection with other people, connection to my purpose for existence," Loren says.
The imagery throughout Butterfly Blue speaks to Loren's own artistic progress, as well as to her fifteen-year professional music career during which she's journeyed from Alaskan childhood prodigy to jazzy chanteuse to globetrotting award-winning artist—images of strife, loss, cocoons of becoming, things fallen, but also flight and liberation and longing, a new-found sense of freedom, and a return to the vast wellspring of American song. "There is always beauty to be found, even in the most painful experiences, and finding ways to reflect that beauty back at the world to remind us that it's still there is, to me, the role of art. That is ultimately the highest calling for me as a music-maker. To give back, to share beauty, and to let it transform me so that it might transform others," says Loren. This idea is most thoroughly embodied in her original song "Butterfly": a rousing, bluesy number that captures the emotional and artistic triumph of the album. "And you say that I just gotta play this game and I'll leave it alive," Loren sings. "And someday I'll look back and see all the pain and fear was a lie… You gotta die awhile to come back a butterfly."
Bio: the rest of the story…
The first thing you notice is that voice: gorgeous, graceful, and somehow earthy and ethereal at once. It is an instrument perfectly matched to the songwriting talents of the artist who channels it — Halie Loren. Her music conveys the wonders of the invisible world: wounded defiance, stubborn love, hard-earned hopefulness.
Fed by the hyperborean beauty of her childhood Alaska home, Loren's gift for discovering the playfulness, pizazz, and sensuality inherent in a lyric appeared early on. But it was her talent for turning those feelings into genre-defying original compositions — songs at once universal and deeply personal — that captured wider attention.
With purity of tone and rare interpretive prowess, she brings a fresh and original perspective to time-honored musical paths, channeling her innate understanding of connectedness across musical boundaries to forge bonds with diverse audiences in North America, Asia, and Europe.
Loren's debut release of eleven original songs, Full Circle (2006), was hailed for exhibiting "a power and grace that are nearly unheard of in popular music." Her sophomore album, They Oughta Write a Song (2008), brought to light her life-long love of jazz standards, and subsequently won a national independent music award for best vocal jazz album, and soon after received distribution in Asia by JVC/Victor Entertainment and in North America by Justin Time Records. Her holiday album with pianist Matt Treder, Many Times, Many Ways: a Holiday Collection, also recorded in 2008, was first released in limited edition, then followed with worldwide distribution in 2011. Her fourth CD, the live album Stages (2010), was met with critical praise, including being named as an Editor's Pick at CD Baby and "best live album of the year" at Wildy's World. After Dark followed in 2010, with the Loren original Thirsty winning the Independent Music Awards' Vox Pop poll for best jazz song of the year.
In its savvy concoction of jazz standards, re-imagined pop classics, and shimmering new originals, 2012's Heart First revealed a confidently maturing artist on her own heartfelt journey. Japan's Jazz Critique magazine honored it as the best vocal jazz album of 2011. Fly Me to the Moon, a bonus track, spent three weeks at No. 1 on the iTunes Japan jazz chart. It was among the top 10 jazz CDs in Hot New Releases at Amazon in the U.S. and Canada, and reached No. 1 on the iTunes Canada jazz albums chart.
Loren's music has proven irresistible to concert halls, whose numbers now include performances with the Jazz Orchestra of Sicily, the Corvallis-OSU Symphony Orchestra in Oregon, and the Monroe Symphony in Louisiana. For the past three years she has traveled the world with the members of her original band, including Canada, Japan, Italy, China, Hong Kong, and South Korea.
In 2013, Loren recorded and produced (along with co-producer Matt Treder) Simply Love, a collection featuring three sparkling new originals and ten radiantly re-imagined classics from contrasting eras of the American songbook. Released in Japan (on JVC/Victor) in June, it rose to the top of the Japan charts in pop and jazz even before its release date, and post-release rose to the No. 1 spot on Billboard Jazz / Japan. It entered iTunes Canada as #1 jazz album following its North American release (on Justin Time Records) in September. Singles included the string-infused original Cuando Bailamos, Carole King's 1974 B-side hit I Feel the Earth Move, and the sweetly honest title track, which Loren co-wrote with Benita Hill.
Her newest release, Butterfly Blue, was released in Japan on January 21, 2015, and globally on June 9th. It debuted at #1 on Japan's Billboard Jazz chart and placed in chart's top 10 list for 8 weeks. The album ventures into some new recording territory for Loren, exploring her musical roots in not only jazz, but also in soul, blues, folk, and pop. Through a soundtrack that includes guitars, piano, organ, double-bass, horns (both in horn sections and solo brass and wind instrument features), cellos, and layered vocals, she and her band create a diverse and rich musical array of original songs (by Loren as well as songwriter Daniel Gallo), unique reads on standards, and little-known covers that have been long-treasured pieces of her repertoire. This collection shows a deeper, more nuanced side of Halie Loren's maturing artistry, featuring strength and vulnerability in equal measures.
Halie toured internationally in support of Butterfly Blue throughout 2015, starting with her biggest Japan tour to-date with 13 packed shows, the U.S., Canada, South Korea, and Europe.